Osteoarthritis is a degenerative disease that is commonly associated with aging, but it can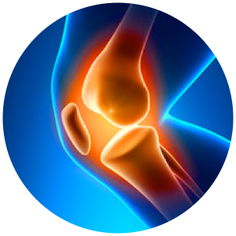 also develop after a traumatic injury or at any age due to genetics. The classic sign of arthritis is aching joints that swell and become stiff due to a gradual deterioration of cartilage – the tissue that cushions the joint. If left untreated, arthritis pain can become disabling.

Some people suffer from a complete loss of cartilage inside the joint, warranting joint replacement surgery. But it doesn't have to come to that. The Sports Medicine and Regenerative Therapeutics Institute's stem cell and blood platelet procedures offer relief from arthritis pain without surgery.

If you have osteoarthritis due to an injury or aging, we encourage you to learn more about your options with stem cells.
Benefits of stem cells for arthritis include:
Same day, office-based procedure
Virtually no downtime
Accelerated regeneration of healthy cartilage tissue inside the joint
Long-lasting relief from joint pain
Eliminate or delay the need for a joint replacement
If other remedies like anti-inflammatory medicine, physical therapy, bracing, viscoelastic supplements, and steroid shots are not sufficient, consider stem cell therapy before resorting to surgery. Not everyone is a candidate for stem cell treatment of arthritis, so be sure to consult with an expert in regenerative medicine.

Any of the esteemed orthopedic physicians at The Sports Medicine and Regenerative Therapeutics Institute can evaluate your arthritic joints and determine if stem cell therapy is right for you.